Preschool Entertainment
---

Desiring another option for your next Field trip?
Stay where you are. Let the Magic of Great Scott come to you!
Tons of laughs and amazement from a full-time entertainer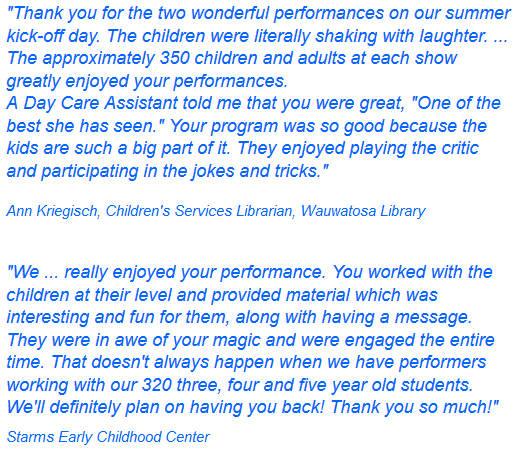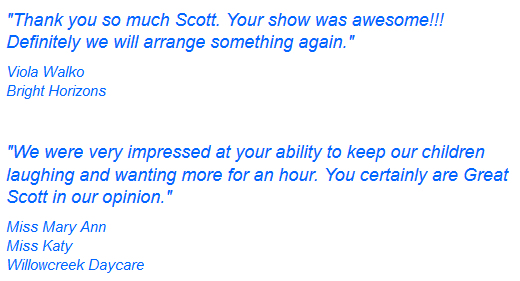 Summer Fun Party Show
Summertime -- the perfect magical program for summer is the Summer Fun Party Show. So much fun -- more fun than a barrel of monkeys. . . Well OK, we'll bring the monkey too. Max the Mind-Reading Monkey that is. He's a monkey. He's a puppet, but that OK. Kids will be howling hysterically at Max -- and the rest of show as well actually. Magic, music puppets. What else could you want?

Goofy Monster Magic Show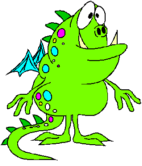 Fall is the time to book this hilarious program. Not scary at all -- but lots of great fun! Hairy Scary Monster (that's his name) make an appearance and helps the kids understand some safety lessons appropriate to the season. Add in plenty of magic and loads of participation, and you've got a show that every child is going to absolutely adore.
silly monsters or "ghosts" come along, and occasionally the magic just seems to work in strange ways. Of course the children love to help solve the "problems" of this hapless magician.
Winter Wonder Fun Show
Winter -- that's the time when the children (and staff) are tired of being cooped up in the classroom during those long cold days. Scott will come and entertain everyone with his show designed around winter themes. More puppets and winter characters make their appearance. We even visit the North Pole (get your imagination cap ready).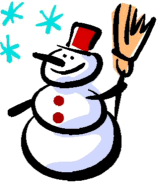 It's a wonder-ful show that be a hit and definately something everyone will be looking forward to. Music, magic, laughter, participation. This show has it all.
---
Do you remember being a child? When you were young you would run and play and act . . .well, like a child. Do you remember watching Saturday morning cartoons? If not, just watch a child as he or she enjoys a funny cartoon. Kids giggle, kids laugh out loud! Why, because they love the physical nature of a cartoon. Children have special needs when it comes to entertainment. Kids enjoy playing or acting out their fantasies. A child will laugh at what seems to be some of the silliest things.
Great Scott is from the Milwaukee, Wisconsin area. He has a unique understanding about what it takes to entertain a child. At a daycare center or preschool, the children are usually 5 years and younger. For these children, everything seems to be magic. And yet, Great Scott (Scott Obermann) can amaze even them. Scott knows how to adjust his performance to suite the age of the children he is entertaining. Young children, especially, can be frightened by unusual things or people they don't know. Scott understands this. His approach to entertaining preschool children is to start off gentle. No flames shooting up, no loud music booming, no big magical TA DA! Merely a soft easing into the show. The children are caught up in wonderful adventure, or a story, and before they know it, the magic is happening, and the kids are quite involved in the show.
So, you can see that magic is only part of the entertainment package when it comes to preschool children. Stories, puppets, music, magic. They all play a role in the show. Scott has several puppet characters that work in his shows. Depending upon which children's show you request for you daycare or preschool, you may meet Charlie the magic rabbit, Chauncey the big loveable sheepdog, or maybe even a box full of puppet mice. Young children are delighted by each of these. They will laugh and enjoy all the physical antics of these puppets. But of course the school staff will enjoy them as well. Some of the puppets have a very dry wit. So be ready to smile, laugh, and even groan at what is said. Puns abound.

262-364-6524
Call Great Scott TODAY!