"Thank You again for being a fun part of our Girls Club weekend. The girls really enjoyed your show"
Shelbi Ketcham
(Elmbrook Church Children's Ministry Assistant)
"Thanks for putting on a great show for us! You were fabulous!"
Pastor Mike Reuter
(Waukesha First Assembly
of God)
MEMBER OF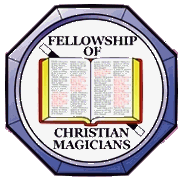 FCM
If anyone speaks, he should do it as one speaking the very words of God. . .
1Pet 4:11 (NIV)
Gospel Illusions

---
Christian Gospel Magician
Presents:
Illusions Illustrated
Using the art of illusion is a unique way to present the truths of the gospel. Scott mixes "magical" Christ-centered object lessons with plenty of audience interaction and fun to present his Gospel Magic programs. 45 minutes of fun entertainment as bible truths are illustrated in a manner that will be long remembered.

Scott presents each program so that it is appropriate to the age-group involved. That makes this is a great program for Sunday School, Children's Church, Church Banquets or Community Church Outreaches.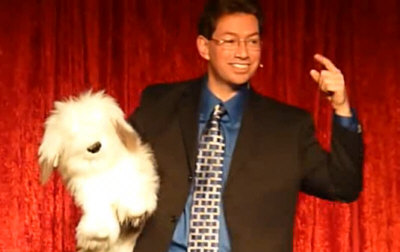 "Hear powerful Christ - centered messages while seeing amazing illusions".
It was a fabulous show! Boy, did we have many great comments! The kids were all so curious, and couldn't stop talking about it! We had a great turnout, and I appreciated everything! Parents were expressing how nice it was that you integrated the Bible Lessons with what you were doing! Julie Vehrs -- Calvary Bible Church
Marshfield, Wisconsin
Thank you so very much for blessing our church with your special gift. You were absolutely amazing and your message to the children and adults was phenomenal. The adults just raved about how great you were, and the children were telling their parents. In fact, one dad said, "WOW, my son just has not stopped talking about Great Scott. Great choice."
Kim Neace -- Weatland Salem Methodist Church
Naperville, Illinois
Thank you so very much for entertaining us and inspiring us with a Christ-centered Bible-based approach. Our families greatly appreciated it.
Assumption B.V.M Parrish Community
Pulaski, WI
A question that arises sometimes is voiced similar to this, "Should magic be used in the church?" Rest assured that Scott does not do supernatural things or claim supernatural powers. He does not perform miracles -- Only God Himself can do miracles. But by using the art of illusion, Scott is able to entertain and teach at the same time. The "magic" is nothing more than clever tricks that serve as a vehicle to draw attention and allow a Biblical message to be conveyed to watching eyes and listening ears.
Many Pastors use 'props' at times to serve as object lessons. A Pastor may hold a dollar bill in the air and use it as a focal point as he talk's about the temporal nature of money. Scott may use a $100 bill in much the same fashion. However, when it vanishes before your eyes, it drives the point home all the more. Money is fleeting.
So, Scott mixes object lessons, magic, puppets (adults love Scott's routines), and music to create a wonderful presentation for your church or outreach.
The entire family will enjoy, learn and be inspired by this unique program of Christ - centered, Bible - based illusions.
... THANK YOU to you for sharing the Good News in such an entertaining manner! Everyone is still talking about it! It brought our people together in an absolutely fun way for our Kick Off! May God bless you, your family and your ministry! Brenda -- Zion United Methodist
Marshfield, Wisconsin
I am sure there will be talk of your performance for some time to come. ...My oldest teaches the young adult class. They talked of your performance and he said all of his students were really impressed. They loved the magic but they also loved the messages you brought and how you tied it all together. Geri -- Trinity United Methodist
Waldo, Wisconsin
The feedback from the children and adults was excellent -- two thumbs up! Thank you for your professional presence and an excellent performance! We will indeed keep you in mind for the future. Lisa Henderson -- Director of Children's Ministries -- Gary United Methodist Church
Wheaton, IL
"...I think you had our group figured out well. Everyone I talked to thought the group loved your show. Even many of the staff and guests commented that they enjoyed it also.
I will definitely recommend you to anyone who is looking for a magician, or if we need something like this in the future, you will be the one we will contact.
Thank You for adding a very enjoyable part to the evening."
Howard Peterson
Shepherd's Home
Thank you for coming to St. Mary's. You did great! I hope you can come again soon...It was wonderful! Megan -- (audience member) St Mary's
Waukesha, Wisconsin
If you would like to invite Scott to perform his Christian Magic program at your Church, Call his office at:
| | |
| --- | --- |
| | 262-364-6524 |